Click Here to use the Online Class Scheduler






Class Descriptions:
Broadway-style Lessons
4-week dance classes; a new dance is learned every month and built on from week to week.
Level 1: Absolute Beginner- this is a 4-week Intro to Tap class. We recommend one session of this class and then moving on to level 2, but you may repeat level 1 as many times as you'd like.
Level 2: Advanced Beginnner- recommended for students in their 2nd month of class who would like to continue to work on the basics, but learn a new routine.
Level 3: Beginner
Level 4: Intermediate
Level 5: Intermediate/Adv
Sign Up


TAProbics

The most unique cardio dance class around! Burn a ton of calories, and get fit the tap dance way! Set to the latest sounds, TAProbics mixes basic to mid-level tap moves with aerobics. There's even a tap toning section at the end. No experience necessary. No other class of its kind. Great for ALL levels!!! Bring yoga mat, or towel + water.
Discount Class Cards & Packages Available. Sign up

"TAProbics is different from a regular tap class because its not about getting a dance step right- it just gives me a chance to play, let loose and have fun, and learn some cool dance moves in the process". -Melissa S.
Workshops
One-time, pay as you go classes.
This month's workshops: Intro to Tap, "Anything Goes" Choreography. Sign up
Teachers:
Hillary Ayn Ryan
Instructor/TAP-a-holic Owner
Hillary
is a professional actress, who started dancing at the age of four. She has performed in numerous productions in NY, LA, and on tour. Her teaching experience includes all types of dance to students ranging in age from 2-70! Finding that there were very few, if any, classic Broadway-style tap dance classes for adults, and none that catered to absolute beginners, Hillary started TAP-a-holic. She was voted LA's #1 Dance Instructor of 2010 and her choreography was recently featured on the hit show, "Desperate Housewives". Hillary is proud to offer a fun, creative way for people to learn tap & get fit without the over-crowding and intimidation found elsewhere.



Anna Emrey
Instructor: Broadway-style Tap & TAProbics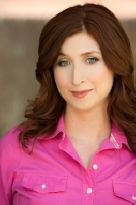 Anna is an actor and dancer who has studied and performed in NY, San Francisco & LA. She has starred in the musicals Damn Yankees, Anything Goes, and Dames At Sea, and has choreographed for such shows as Annie, The Wizard of Oz, and Cats. Through her teaching at Tap-a-holic, Anna hopes to share her lifelong love of tap dancing.

Johnnie Hobbs

Angela Costa

Rachel Assal